Passion, Vision, and History
GSR's origins began at the turn of this century, when its co-founders were developing a new approach to the general systems theory for complex self-organizing adaptive ecological systems that may not be easily modeled.
This work led them from applying their concept at the foothills of the Himalayas in India to the University of Maryland in 2001, where they worked with leading scientists focused on the elevation of nitrogen and phosphorus in Chesapeake Bay. In the following year, they moved to the Champlain Valley with their affiliations with the University of Vermont where the nutrient runoff issue in Lake Champlain was difficult to ignore. They worked on building an ecosystem services platform and continued their research efforts to formulate and test concepts of nutrient recovery.
After almost a decade of effort in building a novel systems approach, they extended their passion for general systems and firsthand experience with Chesapeake Bay and Lake Champlain health issues into creating value from waste nutrient inflows, and in 2008 created the General Systems Research (GSR) company that led to developing cutting-edge technologies to manage nutrient runoff. Their vision evolved into transforming agricultural, food, and industrial nutrient waste into value in order to serve the nexus of the food, water, and energy markets with the purpose of maintaining pristine complex natural systems. With this vision, they reorganized the company as GSR Solutions LLC in 2014 to:
Create high-value products from rapidly growing waste streams for rapidly growing market sectors using GSR's patented technology solutions to provide benefits to waste-generating host site operations
Capture waste stream nutrients, preferably at the point of production, to improve regional water quality by reducing nutrient runoff forming near eutrophic or dead zones in natural water bodies such as Lake Champlain, Lake Erie, Chesapeake Bay, the Gulf of Mexico, as well as other estuaries, basins, and rivers extending to oceans, thereby threatening freshwater and aquatic food sources, increasing waste treatment costs, reducing property values, and affecting tourism revenues and public health
Reduce waste treatment costs amid the population increase that is causing food and freshwater scarcity and enable the growth of businesses by addressing waste treatment limitations
Our Milestones Over the Years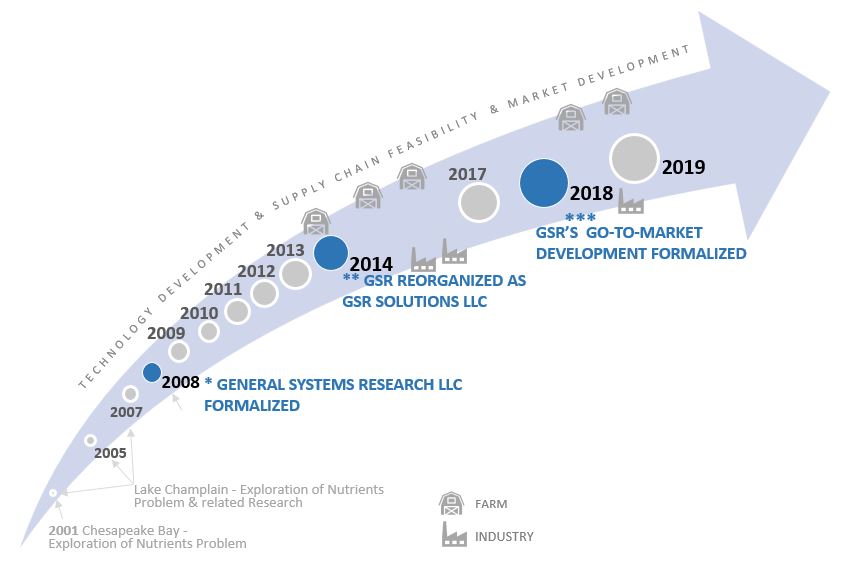 Several years of GSR's continuous R&D efforts, supported by well-known US regulatory agencies (the EPA, USDA, DOE, and NSF) led to the development of cutting-edge solutions springing from microbiological dynamics for converting excessive nutrients affecting natural water bodies and greatly costing municipalities and industries into high-value products.
GSR has continued to develop technology solutions and expand its collection of proprietary high-performance strains including various types of microalgae and supporting microbes that can efficiently feed on nutrients in industrial and agricultural waste streams for producing products such as fertilizer, soil amendments, nutritional & pharmaceutical products, animal feed (for aquaculture and livestock), and liquid fuel while simultaneously treating wastewaters for water reclamation for meeting the demands of the growing global population.
Since then, GSR has refined its technology by incorporating carbon into its processes, endorsed by its end users, proven its functionality, developed proprietary intellectual property, and readied it for commercial applications. GSR's go-to-market development was formalized in 2018. GSR has developed and worked with a network of industry-leading partners and stakeholders, agricultural livestock farms, food & beverage industries, and others, with an interest in its technology's ability to create value from waste, improve business operations, and produce local to global sustainable products.
Our Values
Sustainability - we support sustainability through our business strategies, processes, products, and solutions for creating economic growth and value as well as improving quality of life
Innovation with Passion and integrity - we demonstrate our integrity through our actions and respect for the values of society
Technology - we advance cutting-edge technologies for addressing the food, water, and energy markets
Team - Our staff and our associates are the source of our ideas, actions, and performance. We can best achieve our full potential in an environment of fairness & respect, self-fulfillment, teamwork, and dedication to excellence
Safety - our priority of safety is centered on our commitment to an injury-free work environment, individual self-worth, and consideration for the well-being of other people
Quality - our constant goal of quality performance is based on understanding the needs of the complete supply chain
Partnership - front and end users work with our partners and customers with the goal of long-term relationships
Community - strengthening our communities through business expansion opportunities and growth